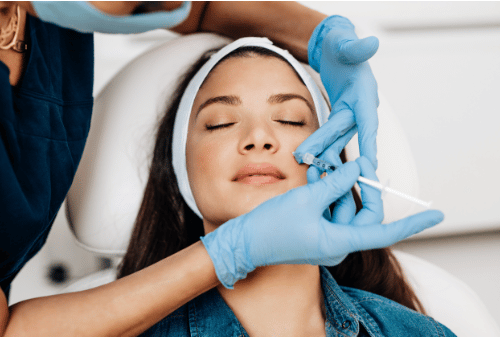 What are the Benefits of Botox® and Fillers?
At Pure Medical Spa, we offer the most advanced facial rejuvenation treatments to restore and preserve your youthful appearance. Botox® and fillers are popular cosmetic facial injections for giving skin a healthy, beautiful glow.
These treatments have earned a consistent reputation due to their safe and effective results. However, you may be curious about what these treatments can accomplish for you. We've compiled all you need to know about Botox® and fillers and how they can help your skin.
What Is The Difference Between Botox® and Dermal Fillers?
Before we get into the benefits, it's important to understand the distinction between Botox and fillers. While they both have excellent skin benefits, they also have distinct qualities and applications.
Botox®
Botox® is a brand name, and similar products are on the market, such as Dysport®. It works by injecting Botulinum toxins into the facial muscle to inhibit muscle mobility. Deeply etched lines in the face, commonly caused by intense concentration or repeated furrowing, will fade with regular use.
Dermal Fillers
Dermal fillers differ from Botox® in that they are injected into the contours of your face to increase volume or plump specific regions rather than paralyze them. Some fillers contain hyaluronic acid, which fills wrinkles. Hyaluronic acid is a naturally occurring chemical that your body makes to keep your skin firm and hydrated. Fillers can also be made from your own fat.
Injectables
Botox® and fillers are referred to as injectables because they use a syringe to put a product directly under the skin and muscle to decrease the indications of aging.
Pure Medical Spa believes living well means feeling good about the way you look so, let's have a look at some of the benefits below. 
What Are The Benefits of Botox® and Fillers? 
Adds Volume To Your Face
Fillers are an excellent alternative for adding volume to your face. Under the eyes, thinning cheekbones, and lips are the most delicate and popular areas that clients want to focus on. Because hyaluronic acid is a natural material, it is suitable for people with severe allergies.
Obtain a Youthful Glow
As previously said, Hyaluronic Acid is a naturally occurring chemical in the body. By applying this to the skin, you can boost not only the volume but also the appearance. Hyaluronic acid has been shown to improve overall skin quality and provide a youthful glow.
You'll See Results Right Away
One advantage of Botox® or fillers for your skin is the speed with which they work. You will notice a difference after just one session. However, the finest benefits are obtained over time by following a treatment plan.
The Effects Are Long-Term
When you take a product like Botox® or a similar brand, you are reducing the odds of growing new lines and the chances of developing new ones. In most circumstances, patients will begin a treatment regimen and gradually reduce the number of shots required.
Reduce the Visibility of Fine Lines and Wrinkles
Botox® is used to treat wrinkles in areas with a lot of stress, such as frown lines and furrowed brows. You can prevent deeper lines from appearing by freezing the muscles in these places.
Reduces Tension Headaches
This one isn't about skin, but it benefits so many people that we wanted to highlight it. Botox® is being utilized to treat headache patients. When injected into the forehead muscles, neck, and shoulders, it can relieve tension, reducing the load on the nervous system.
PURE Med Spa: Your Vision is Our Inspiration in Beaufort and Bluffton, SC
At PURE Med Spa, we offer a broad range of aesthetic treatments to help you love the skin you're in. Offering only the latest and greatest skincare products, medical aesthetic treatments, and day spa services, we're here to provide a relaxing and rejuvenating experience.
If you're considering Botox® or fillers, Pure Medical Spa is a perfect choice. Call (843) 815-6699 or schedule your consultation online today for an expert opinion and customized treatment plan.