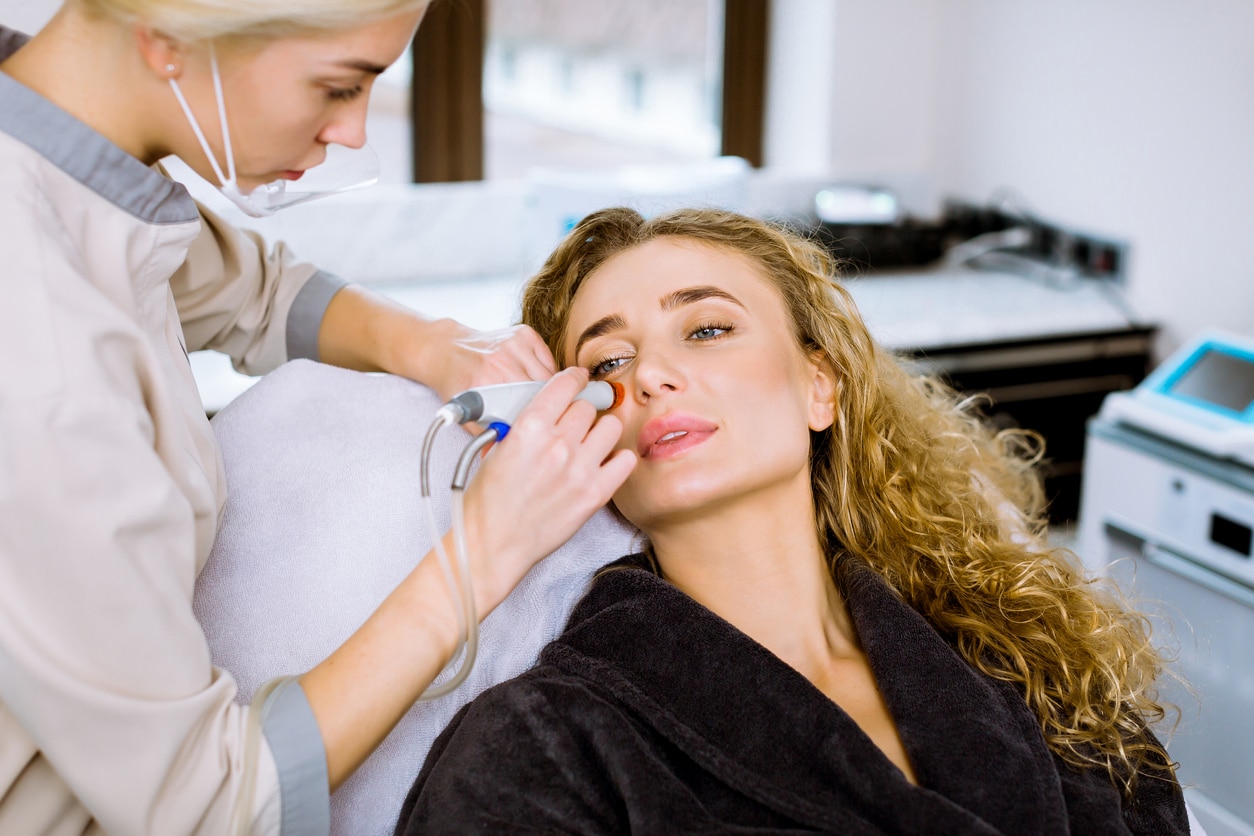 Top Acne Treatments: Beyond Creams, Ointments, and Pills
This Halloween season, it's time that you took steps to remove the fear of acne from your life. Acne treatments and cosmetic procedures have come a long way during the technology age. If you find that this or that cream, pill, topical ointment, or treatment no longer produces results in the fight against your acne, you may need to consider these cutting-edge options from PURE Med Spa.
HydraFacials
Clarify your face, neck, and décolleté with this effective acne treatment at PURE Medical Spa. Our proven, 3-step process includes cleansing, exfoliating, and resurfacing.
In the cleansing step, your skin will be washed with a cleanser tailored to your skin type and skin needs. Then, acne-causing oils, dirt, and toxins are removed from your pores, making a path for a powerful hydrating agent. Lastly, antioxidants and peptides are added to your skin through a serum for a radiant, healthy glow.
Depending on your skin type, you can have HydraFacials as frequently as every 2 weeks for optimal results. Treat and protect your skin from acne and further breakouts with HydraFacials!
Chemical Peels
Chemical peels treat a variety of skin conditions but can be a real game changer for those who suffer from acne. By enhancing the surface of the skin, chemical peels can minimize acne and acne scars.
On the surface, our skin may appear fresh, but in reality, most people have a layer of decaying skin cells on the outermost layer of their skin. A chemical peel removes those pesky, built-up dead skin cells with a chemical agent. Not only can a chemical peel treat acne, but it can also hydrate, exfoliate, and deep clean your face, which is powerful for preventing future blemishes.
We offer 3 different types of chemical peels that can be completely customized to your skin type, skin concerns, and skin goals. Make room for fresher, healthier skin with chemical peels at PURE Medical Spa.
RF Microneedling
No matter your skin type, RF (radio-frequency) microneedling can smooth and tighten your skin. A highly effective treatment for acne scars and reducing blemishes, RF microneedling is quick, safe, and completely customizable to your desired results.
RF microneedling treatment begins with a handheld device lined with extremely fine needles. These needles create small indentations in your skin that spur the body's healing process. Then, radio-frequency waves fill those small indentions, supercharging the production of collagen. The frequencies are adjusted based on the type of skin treated, making it safe for even the most sensitive skin.
This dual-step process improves skin complexion in just a few comfortable appointments. Come and experience this popular treatment at PURE Medical Spa.
IPL Treatments
IPL, or intense pulsed light, treatments utilize cutting-edge light technology for skin tightening and acne reduction. With IPL treatments, you can restore and rejuvenate your skin in as little as 30 minutes.
During the treatment, short pulses of light penetrate various skin layers to destroy bacteria, reduce inflammation, and remove excess oil. And, these bursts of light trigger the body's natural production of elastin and collagen, which are responsible for skin healing and tightening. A monthly treatment can keep dirt, toxins, and oils at bay for optimal results.
This soothing, therapeutic skin treatment may be exactly what your skin needs to begin healing itself. Eradicate uneven pigmentation and blemishes with IPL treatments at PURE Medical Spa.
Treat Your Acne Once and for All
For many of us, acne can be the culprit of insecurities and frustrations. At PURE Medical Spa, we pride ourselves on offering a long-lasting, even permanent reduction or solution for all types of acne symptoms. With our state-of-the-art technology and our dedicated staff, you can find effective treatments for acne, acne scars, hyperpigmentation, and more. Boost your confidence and feel comfortable in your own skin with the help of PURE Medical Spa.
Find Solutions to Acne at PURE Medical Spa
At PURE Medical Spa, we are dedicated to finding solutions for your acne. Our cutting-edge treatments can significantly improve a variety of skin conditions, like acne. Call us at 843-524-5550 or contact us online to learn more about our acne solutions!