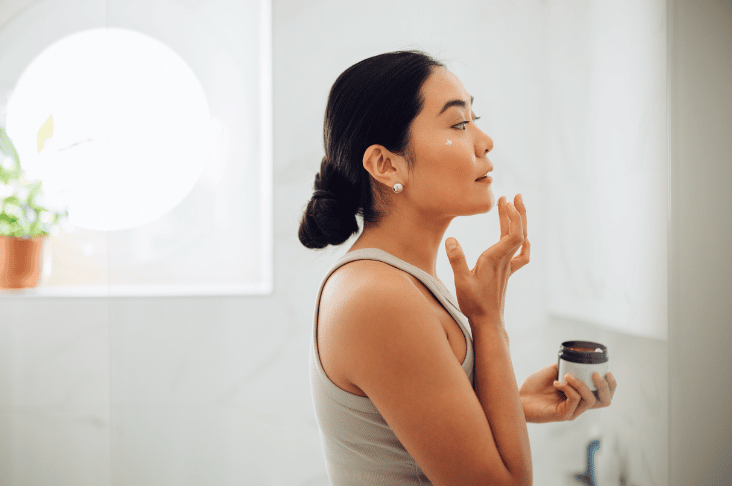 The Ideal, At-Home Skin Care Routine
Try as you might, you can't seem to find a skincare routine that works for you. You're unsure what products are worth using and which ones you should leave alone. If you want healthier skin, we've put together an at-home skincare guide that shows you all of the essentials you need at your disposal. 
This is the most basic and foundational approach to at-home skin care, but feel free to add other skincare products and additions that are suited to your individual skin!
Step 1 – Cleansers
Cleansers are incredibly important as they help to remove a lot of dirt and bacteria from your face. In fact, the first step in your skincare routine should be to cleanse your skin. This will unclog your pores and can prevent breakouts from forming while also keeping your skin clean and healthy. 
The key is avoiding cleansers with lots of chemicals. Pick one that's as natural as possible, and do your research to choose a cleanser that suits your particular skin type. For example, don't choose a creamy hydrating cleanser if you have oily skin!
Step 2 – Toners
After cleansing your face, the next step involves applying toner. This is usually water-based, and you can dab it on with a small cotton ball. It further helps to remove any debris from the skin after the cleanse to give your skin a more refreshed look. Toners also lock in your skin's natural moisture, so your skin shouldn't feel gritty and dry after cleansing. 
Step 3 – Serums
A serum can then be applied to give your skin an extra boost, depending on your individual concerns. Typically, serums will contain some powerful active ingredients that help your skin in one or several critical ways. 
Hyaluronic acid serums are highly popular, and they work by hydrating your skin and encouraging it to lock in more moisture, treating dryness. Then, you have serums that contain retinol, which is absorbed into the skin and encourages collagen production to smooth and plump up your face. 
Various serums are available, so pick one that targets a specific skin care concern you have. 
Step 4 – Eye Creams
Eye cream is designed for the delicate skin under your eyes. Naturally, this area gets very thin, which can lead to dark circles and fine lines. Often, this is what makes people look or feel older than they are. 
Thankfully, you can apply good eye cream to the undereye area to revitalize it. Try to find one with vitamin C and caffeine, as these ingredients can target the dark circles and puffiness you may experience. Avoid putting too much pressure on the area when applying eye cream as the skin is so delicate it can easily be damaged. 
Step 5 – Moisturizers
Finally, you can conclude your routine with a high-quality face moisturizer. Ensure you get one for your face, not for your body. The focus of a moisturizer is to lock in all the moisture and keep your skin nice and hydrated. It also protects your skin from the elements, leaving it in a better condition. 
Again, like your cleanser, pick a moisturizer that's suitable for your skin type. 
Get Busy Glowing!
Now that you've got the essentials of an at-home skincare routine down, feel free to experiment with other products designed for your individual skin tone, type, and needs. For that extra bit of pampering that we all need from time to time, check out PURE Med Spa's variety of treatments to tackle everything from wrinkles to acne scars. Feel free to contact us to schedule a consultation. 
A Foundational At-Home Routine for Flawless Skin!
Though it may sound strange to say, our skin impacts us in more than just skin-deep ways. Skin health is overall health, and the right at-home care routine can work wonders on your skin quality, skin health, skin texture, and skin glow. To learn more about skincare essentials, or to take your routine to the next step by incorporating hydrafacials, chemical peels, or microneedling, contact us or call at (843) 524-5550.