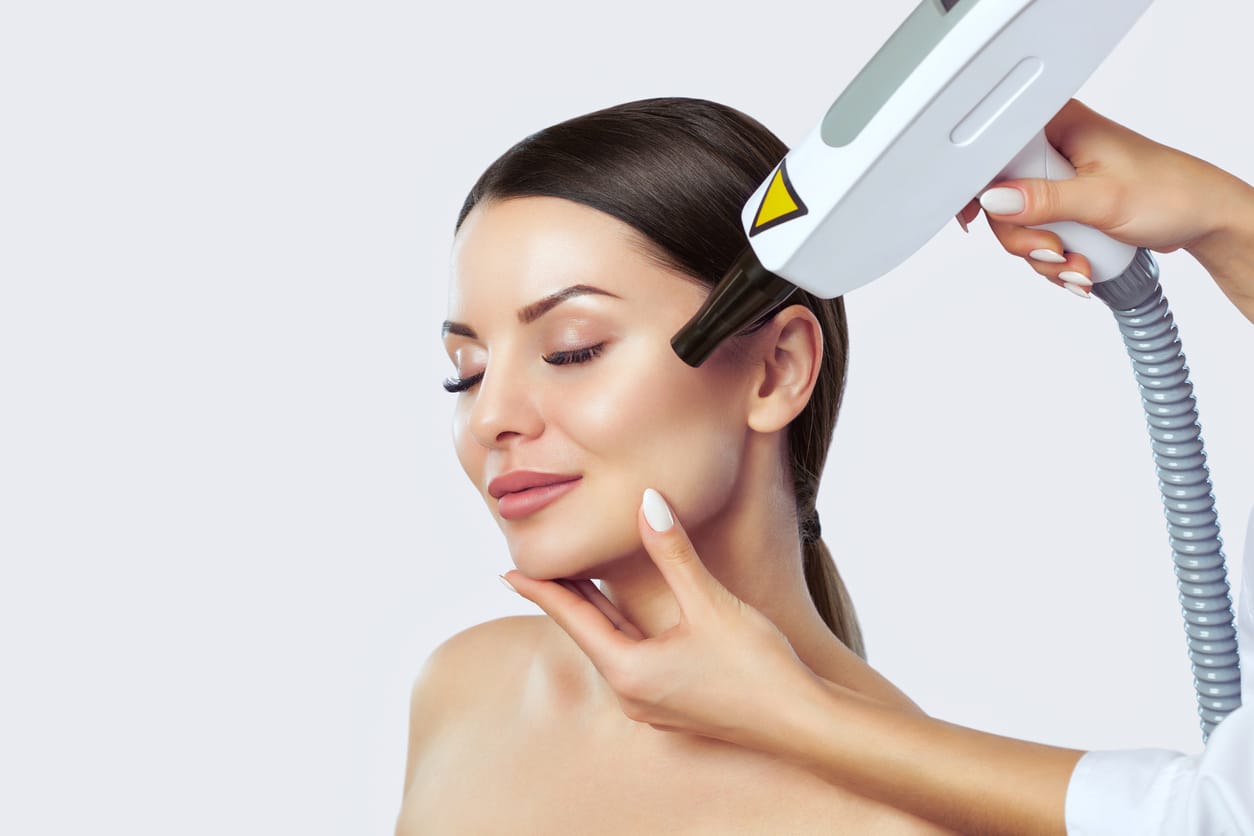 What is Laser Resurfacing? – A Guide
As we get older, damage caused by the sun and the general effects of aging can take a toll on our skin. The youthful glow that you once had is difficult to get back by using over-the-counter skin products alone. But there are some excellent non-invasive treatments to manage skin damage and improve the overall appearance of your skin. Laser resurfacing treatments are one of the best ways to improve your skin and get lasting results.
Laser resurfacing is a completely safe, non-invasive treatment that can restore your skin to its former glory and create a smooth complexion. It does not leave any scarring and there is minimal downtime required once the procedure is finished.
What Is Laser Resurfacing?
Laser resurfacing treatments can be used to treat a wide range of skin issues. Some common conditions that are improved with this treatment include:
Skin blemishes

Age spots

Sun damage

Wrinkles and fine lines

Acne scars

Stretch marks
How Does Laser Resurfacing Work?
The laser resurfacing process helps patients achieve fresher and younger-looking skin by removing the damaged layer of the epidermis. This creates a new, smoother layer that is yet to be affected by aging and environmental damage.
Resurfacing treatments are applied using a laser wand. The laser light penetrates the skin to reach the deeper layers which are then gently stimulated. This process boosts collagen production that will improve the overall appearance of your skin by adding radiance and firmness to plump out wrinkles.
During the treatment, there is no anesthesia required and it only takes about ten minutes depending on the size of the area being treated. A topical numbing cream is applied to the skin about 30 minutes before the procedure begins to minimize any discomfort that would occur.
Benefits and Candidates of Laser Resurfacing
Candidates for laser resurfacing include anyone who wants to improve the appearance of skin blemishes, crow's feet, age spots, wrinkles and other signs of aging. This treatment is completely safe for people with all skin types including sensitive skin. There are no limitations on activity afterward because this laser resurfacing treatment is done in-office without any downtime. After the treatment, the skin may be pink for about eight hours before returning to its normal color. You can resume your normal activities after the numbing cream is removed.
Patients often see the best results after multiple treatments are completed, spaced out at least three months apart since new collagen continues to grow even after treatment has finished. The results can last anywhere between 3 and 5 years after the full course of treatments has been finished.
The many benefits of laser resurfacing treatments include:
Non-invasive treatment

Solve a variety of skin issues

Very little downtime after treatments

Long-lasting results

Suitable for all skin types
Get Smoother Skin and Better Complexion
Laser resurfacing is an excellent, non-invasive treatment offered by dermatology specialists to deal with a range of skin issues. At PURE Med Spa, our laser resurfacing treatments can give you a better complexion so you can get back to snapping pool-side selfies in no time at all. Our patients are always over the moon at the amazing results and the excellent service we provide!
Achieve a smoother, younger-looking complexion!
Laser resurfacing can eliminate hyperpigmentation for a smoother complexion, increase collagen production for fewer fine lines and wrinkles, and otherwise put the bounce and glow back in your skin! To take years off the clock or restore your skin in targeted areas, laser resurfacing may be the ideal solution for you. To schedule a consultation, or to learn more about the laser resurfacing procedure, call PURE Med Spa today at (843) 287-9002!