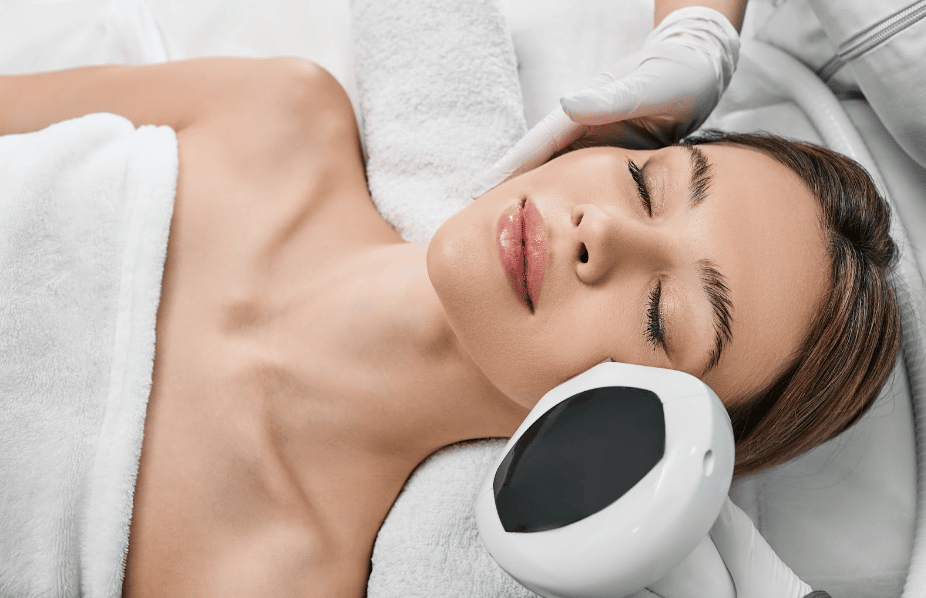 IPL for Age Spots: Smoother Skin in Time for Summer Fun
Brown spots, age spots, and other facial blemishes may be more common as we age, but that doesn't mean we have to live with them! One of the most common signs of aging after fine lines and wrinkles is age spots can make us look older than we feel. But with cutting-edge technology, we can now use the power of light to reverse the damage that age, sun exposure, and genetics have caused to our skin with Intense Pulsed Light (IPL) therapy.
If you're struggling with spots of discoloration on your chest, neck, face, or arms, now is the perfect time to rejuvenate your complexion with IPL. At PURE Med Spa, we're here to give you all the information you need about this hugely popular procedure. Let's dive in!
What Is Intense Pulsed Light (IPL)?
Intense pulsed light is a form of light therapy that aims to reduce the appearance of many skin conditions. Whether your skin blemishes are a result of sun exposure, acne scars, or even conditions like rosacea, IPL treatments can help reduce the appearance of many of these concerns.
IPL is a non-invasive procedure that uses an electronic device to emit pulses of light at different wavelengths. This device is applied to your skin, targeting areas that are different in color from the surrounding tissue. These carefully curated wavelengths of light heat the discolored pigments, breaking them up so that your body can naturally flush them away. The result is a more even and balanced skin tone.
The Benefits of IPL for Pigmentation Concerns
Because IPL uses multiple wavelengths of pulsating light, treatment can be highly personalized, precisely targeting discolored skin without damaging surrounding tissues. Freckles, sun spots, and liver spots are easily targeted, even on darker skin where other laser procedures are limited. And because this procedure triggers your body's own healing mechanisms such as collagen production, the skin is renewed with fresh and healthy regenerated cells.
Perhaps best of all, with IPL, you can return to your daily activities almost immediately after treatment. With no needles, scalpels, or threads, this procedure is completely non-surgical and non-invasive, requiring no downtime or time off work.
What Can IPL Be Used For?
IPL can be used for a number of skin conditions and issues, but here are some of the most common uses for the procedure:
Removing old acne scars

Evening out birthmarks

Reduce the appearance of rosacea

Smoothing out hyperpigmentation or freckles

Removing melasma patches

Getting rid of scar marks

Treating spider veins

Reducing stretch marks

Healing sun-damaged skin

Dealing with wrinkles
If you're unsure if IPL is a good fit for your skin conditions, don't hesitate to contact us for more information! Our providers are happy to perform a thorough consultation, recommending only the most appropriate treatments for your unique goals.
What Happens During an IPL Procedure?
IPL procedures are safe and relatively straightforward. To start, your provider will cleanse your face to ensure the best results and also remove anything that could block the light waves from healing your skin, such as creams or lotions.
Next, your provider will move a hand-held device over the area that you want to treat. Pulses of light will be emitted into your skin, which will then be absorbed to help stimulate collagen production. Treatment only takes around 30 minutes on average, but sessions can be shorter or longer depending on how many areas we are treating.
During this process, you may feel a mild pinching sensation on your skin. Most people tolerate this sensation well. That said, your provider can administer an anesthetic cream if you feel uncomfortable. At PURE Med Spa, your comfort and safety are our top priorities!
How long do IPL results last?
Treatment is entirely personalized to you, so each patient's plan may look a little different, with recommended sessions ranging from two to eight sessions spaced once per month. After your treatment course is complete, you can expect results to last well over a year. Most people start to see major improvement after the first procedure, and their skin is usually completely smooth and balanced after six to eight sessions. Once your goals have been achieved, we typically suggest treatments every 6 to 12 months to maintain maximum results.
Get Smooth Skin for Summer with IPL at PURE Med Spa
Spring is the perfect time to start your skin renewal journey. By the time summer arrives, you'll be rocking fresh, even-textured, and glowing skin that you'll want to show off all season long. If you're interested in learning more about brown & age spot removal from South Carolina's top med spa, schedule your consultation today!
PURE Med Spa: Your Vision is Our Inspiration in Beaufort and Bluffton, SC
At PURE Med Spa, we offer a broad range of aesthetic treatments to help you love the skin you're in. Offering only the latest and greatest skin care products, medical aesthetic treatments, and day spa services, we're here to provide a relaxing and rejuvenating experience. Not sure which treatment is right for you? Call (843) 815-6699 or schedule your consultation online today for an expert opinion and customized treatment plan.