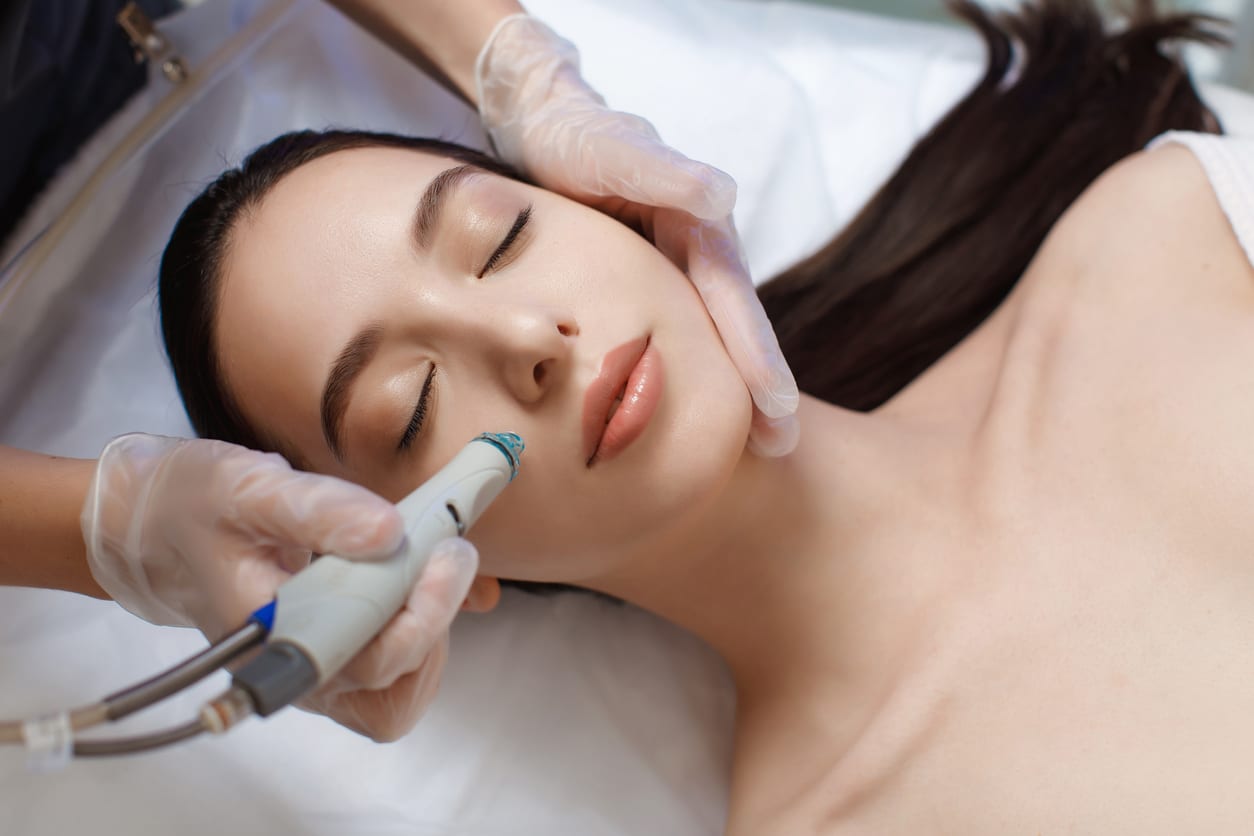 HydraFacials 101 – Benefits & How They Work
If, to you, a HydraFacial sounds like something out of science fiction, then you're really not half wrong. Far from your mother's customary facial—featuring a dollop of lotion and a forehead massage—HydraFacials rely on cutting edge technology and a drastically improved understanding of human skin to accomplish deep, skin rejuvenation like never before.
Making the most of scrubbing, vacuuming, peeling, and moisturizing technology and serums, HydraFacials offer complete, facial skincare for remarkable results in under an hour. Best of all, the process is every bit as comfortable as a basic spa facial. Numerous HydraFacial variants can target unique skin conditions for ideal outcomes. The procedure can be easily tailored for anti-aging, acne, and even the neck and neckline areas. 
To demystify HydraFacials, we need to understand them every step of the way. Here's how a HydraFacial works step-by-step.
Step 1 – Vortex Exfoliation
Cleaning your windows and cleaning your face have more in common than you may think. Before we scrub any glass surface to brilliance, we have to clean it first. 
During the first step of your HydraFacial, your licensed aesthetician/dermatologist uses a vortex scrubber wand to exfoliate and clean, removing the existing layer of dead skin cells to access the newer, supple skin below. Dead skin cells can dull our complexion. Removing these dry, lusterless cells evens out skin tone while also allowing the skin underneath to hydrate and breathe easier. 
Once your face is cleaned and exfoliated, it's time for the next step.
Step 2 – Peel Hydration
Without knowing or feeling it, our skin pores are hard at work each day. Pores serve as output channels for sweat, oils, and other toxins that may damage or dull our skin. Cleaner pores allow for more toxins and oils to escape, improving our overall appearance and health.
In step 2 of your HydraFacial, an irritant-free chemical peel is applied for two key purposes. Firstly, the peel extracts debris and leftover toxins from your pores. Secondly, the nutrient-rich peel permeates the skin to provide deep, nourishing hydration. 
Unlike traditional chemical peels, however, this special solution won't leave your face feeling hot or scoured. Instead, immediately after step 2, you should notice softer, refreshed-feeling facial skin. A vacuum may also be used during step 2 for total pore penetration, giving you the cleanest possible pathways for naturally removing toxins.
Step 3 – Protection
After exfoliation, cleaning, peeling, and hydrating, what could possibly come next? By step 3, your HydraFacial has one more crucial trick up its sleeve.
Not so unlike a premium car wash, the final step of your HydraFacial journey entails a protecting serum to maximize results and longevity. Your aesthetician/dermatologist will use their HydraFacial wand to apply a collagen- and antioxidant-rich serum across the surface of your skin.
Although our skin naturally produces collagen, its maximum output diminishes as we age. This collagen-rich serum, however, puts the bounce back into your skin, reducing the appearance of fine lines and wrinkles. Sun damaged and greasy skin, along with blemishes (or hyperpigmentations) should also see immediate improvement!
Schedule Your HydraFacial Today
HydraFacials may be the cutting-edge, next step in spa skincare treatments, but that doesn't mean that they're impossible to understand. In only 3 easy phases over the course of an hour-long appointment, you can completely rejuvenate your skin for unbelievable results lasting six weeks or longer. 
With a HydraFacial, there's no intense downtime or restrictrictive recovery period. Aside from avoiding certain topical ointments or acne medications for 1-2 days after the treatment, you'll mostly just need to avoid tanning beds or intense UV exposure. Before and after photos of HydraFacial results tell a pretty clear tale. To experience the difference for yourself, consider booking a HydraFacial appointment with PURE Medical Spa today!
Complete skincare in an hour-long appointment.
The human dermis is pretty remarkable in its own right, but that doesn't mean it can't benefit from a little TLC every now and then. HydraFacials can quickly become a regular part of your skincare routine. With elaborate benefits, instantaneous results, and a quick and painless treatment window, your first HydraFacial is bound to become the first of many. To schedule a HydraFacial appointment, contact us through our website or call us at (843) 287-9002 today.